We understand that it can be disheartening to learn you need bed bug removal.
Some pests are easier to deal with than others. There are two things that make bed bug removal a bit more challenging than other pest removal situations. The first is that bed bugs are extremely good at hiding. The second is that bed bugs have evolved to the point that the most common DIY methods are no longer effective. You can rest assured that at Downs Pest Control, we have the experience to locate and eradicate any and all bed bugs that might have ended up in your West Des Moines, Iowa home. We stay up on the latest bed bug removal technology to ensure we use the correct method to give you the pest-free home you deserve.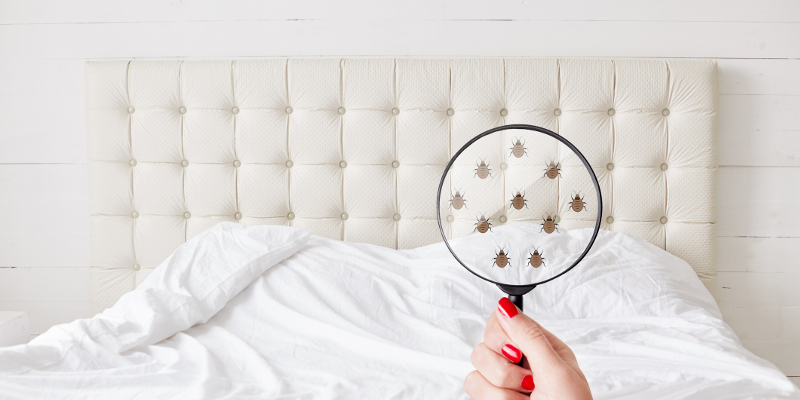 We understand that it can be disheartening to learn you need bed bug removal. You may be seeking answers to why it happened. Unfortunately, bed bugs don't confess no matter how much we interrogate them. All jokes aside, there are several ways they could have gained access, ranging from navigating from a shared wall with your neighbor to hitchhiking in on your clothing, used furniture, luggage, or even from a guest's clothing or luggage. One way they do not enter is from the outdoors, which is why pest control barriers are ineffective at keeping them away. Thankfully, most other pests are deterred by our ongoing pest control services, so that is still the best way to keep your home pest-free in general.
If you would like to know more about bed bug removal because you suspect some may have hitchhiked into your home, don't hesitate to reach out to us. We will put an end to your bed bug problem and discuss plans to help with any other pest problems you might be experiencing.
FAQs About Bed Bug Removal
Hopefully, you have never had to deal with bed bugs before, but that also means you might not know much about how to identify or eliminate them. Luckily, we're here to enlighten you and make sure you have some of the important information you need. Check out our answers to a few frequently asked questions about bed bug removal below.
What do bed bugs look like?
Some people mistakenly believe that bed bugs are not visible to the human eye. However, adult bed bugs are roughly the same size as an apple seed while baby bed bugs are around 1.5 mm long, or the same size as a flaxseed. The adults are also reddish-brown and wingless while the babies are translucent or a whitish-yellow color.
Do bed bugs really bite?
Yes. People say "don't let the bed bugs bite" for a reason. However, bed bug bites are not considered dangerous. They are not known to spread any diseases, though you may notice itching, redness, irritation, or an allergic reaction for some people.
How long does bed bug removal take?
Unfortunately, the length of time it takes to kill bed bugs varies from situation to situation. It can be difficult to disrupt the bed bug life cycle, and it can take anywhere from a couple of weeks to a few months to eliminate them, depending on the severity of the infestation. We will do our best to eliminate them as quickly as possible, but we prioritize being thorough to get the job done right over speed.
Do you provide estimates for bed bug removal?
Yes, we can offer an estimate when you contact us for bed bug removal after we have evaluated the specifics of your situation.
---
At Downs Pest Control & Property Maintenance, we offer bed bug removal services to those in Des Moines, Urbandale, West Des Moines, Ankeny, Colfax, Martensdale, Norwalk, Prole, Minburn, Lacona, Bouton, Peru, Winterset, Bevington, Huxley, Bondurant, Dallas Center, Elkhart, Indianola, Polk City, Cambridge, Prairie City, Van Meter, Berwick, Redfield, Liberty Center, Madrid, Earlham, Sheldahl, Carlisle, Cumming, New Virginia, Altoona, Windsor Heights, Granger, Johnston, Mingo, Ackworth, Alleman, Maxwell, Truro, Milo, Saint Charles, Waukee, Grimes, Ira, Pleasantville, Adel, Booneville, Patterson, Woodward, Swan, Runnells, Saint Marys, Hartford, De Soto, Slater, Kelley, and Mitchellville, Iowa.