You don't have to get close enough to identify a spider to know you need spider removal pronto!
You don't have to have a serious case of arachnophobia to not want spiders hanging out in your Des Moines, Iowa home. There aren't many people who would consider them a welcome visitor, even though the majority of spiders found in this area are relatively harmless.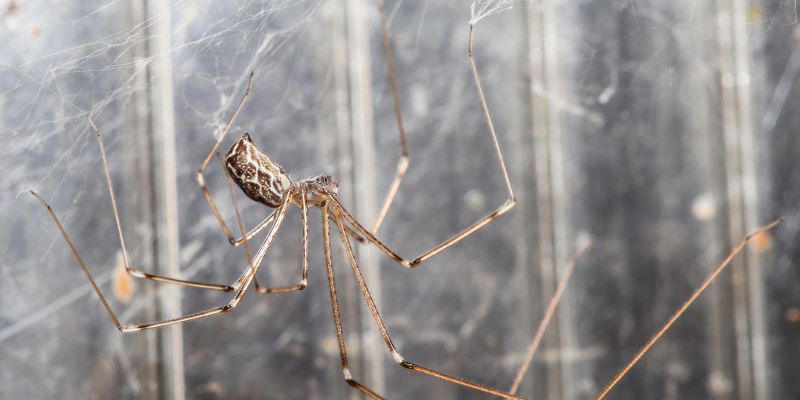 At Downs Pest Control & Property Maintenance, we understand not wanting to get close enough to a spider to identify whether it is a dangerous brown recluse or black widow or something tamer such as a dark fishing spider, long-legged sac spider, banded garden spider, or woodlouse spider, whose bite can be painful but not medically significant. You might even have the perfectly safe barn funnel weaver that rarely bites and is painless if they do.
One of the misconceptions regarding spiders is that they can be controlled. The reason is that spiders are not deterred by pesticide barriers. To kill a spider, the pesticide must be applied directly on it. So, while spider removal services can rid your home of those currently present, it doesn't mean you won't get more of them. The important part of spider removal is keeping them from breeding and causing an infestation in your home. When you consider that a female black widow can lay several batches of eggs, with each batch numbering up to 750 eggs, you could have a serious problem if you don't call for spider removal in a timely manner.
If you have some eight-legged houseguests you want to be evicted, give us a call to learn about our spider removal services. We can remove those you see and perform an inspection to see if there are others that have escaped notice.
---
At Downs Pest Control & Property Maintenance, we offer spider removal services to those in Des Moines, Urbandale, West Des Moines, Ankeny, Colfax, Martensdale, Norwalk, Prole, Minburn, Lacona, Bouton, Peru, Winterset, Bevington, Huxley, Bondurant, Dallas Center, Elkhart, Indianola, Polk City, Cambridge, Prairie City, Van Meter, Berwick, Redfield, Liberty Center, Madrid, Earlham, Sheldahl, Carlisle, Cumming, New Virginia, Altoona, Windsor Heights, Granger, Johnston, Mingo, Ackworth, Alleman, Maxwell, Truro, Milo, Saint Charles, Waukee, Grimes, Ira, Pleasantville, Adel, Booneville, Patterson, Woodward, Swan, Runnells, Saint Marys, Hartford, De Soto, Slater, Kelley, and Mitchellville, Iowa.