Spider removal should take place as early as possible to prevent an infestation.
Not all spiders are dangerous, but most people would prefer they weren't around. At Downs Pest Control & Property Maintenance, we have a protocol we recommend that can reduce the number of spiders that decide to invade your Ankeny, Iowa home.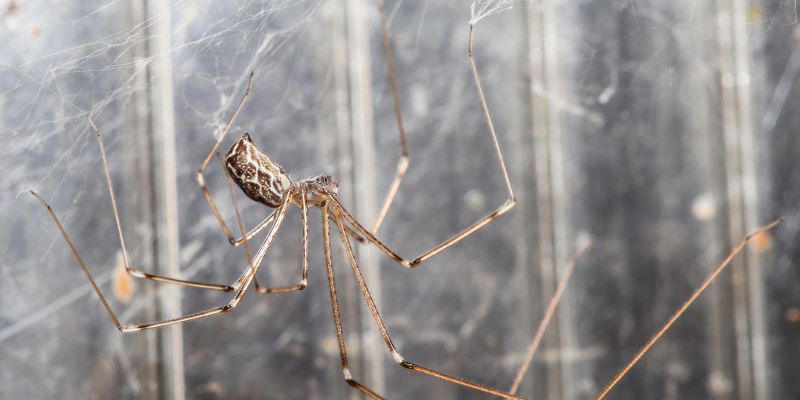 The first thing to understand about spiders is that they are not deterred by a pest control barrier like other pests can be. In this sense, they cannot be prevented from entry. However, with an effective preventative pest control treatment plan in place, there will be fewer other pests in your home and without a food source, spiders will be less inclined to stick around.
The second thing we want to share is that spider removal should take place as early as possible. One female spider can lay nearly a thousand eggs, so you can have a real infestation on your hands if you delay. This is distressing enough with spiders that don't bite or whose bite isn't painful or dangerous, but it is downright frightening if you have something like a black widow or brown recluse breeding rapidly in your home. While we much prefer to handle your spider removal early in the game, if you didn't notice them until they've become a big problem, we are more than equipped to resolve that problem, as well.
If you would like to get started with spider removal and a plan to minimize visits from these pests that give most people an uncomfortable feeling, don't hesitate to reach out to us. We can make your home a no-pest zone and put you at ease.
---
At Downs Pest Control & Property Maintenance, we offer spider removal services to those in Des Moines, Urbandale, West Des Moines, Ankeny, Colfax, Martensdale, Norwalk, Prole, Minburn, Lacona, Bouton, Peru, Winterset, Bevington, Huxley, Bondurant, Dallas Center, Elkhart, Indianola, Polk City, Cambridge, Prairie City, Van Meter, Berwick, Redfield, Liberty Center, Madrid, Earlham, Sheldahl, Carlisle, Cumming, New Virginia, Altoona, Windsor Heights, Granger, Johnston, Mingo, Ackworth, Alleman, Maxwell, Truro, Milo, Saint Charles, Waukee, Grimes, Ira, Pleasantville, Adel, Booneville, Patterson, Woodward, Swan, Runnells, Saint Marys, Hartford, De Soto, Slater, Kelley, and Mitchellville, Iowa.