Rodent extermination should be done at the first sign of rodents in your residence.
Although there are several times during the year that rodents can pose a problem in your Des Moines, Iowa home, the most common time is when the temperatures start dropping and they are looking for a dry and warm shelter. Rodents generally do not breed during the winter, but they will stick around in the spring and do so. This is just one reason of many why professional rodent extermination is so important.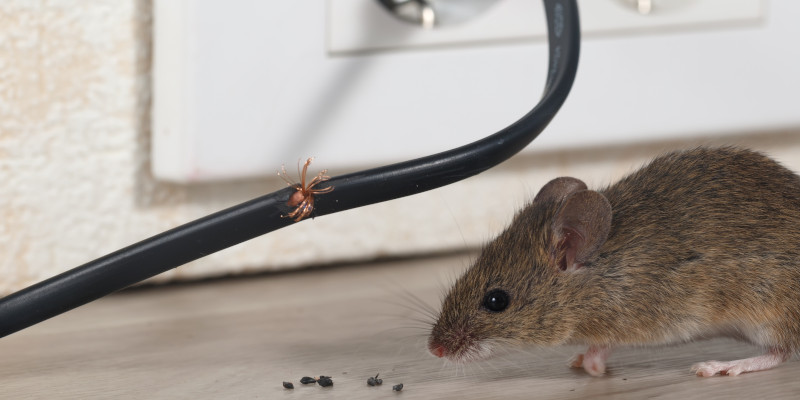 At Downs Pest Control & Property Maintenance, we are sometimes called upon in late winter and early spring to resolve problems that mice and rats have caused, and we want you to know that the best way to avoid needing to call us then is to call us for rodent extermination when you first suspect you have rodents present in your home.
Rodents can wreak havoc on your home's electrical system, the insulation, personal belongings, and more, resulting in more expense on your part than what our affordable rodent extermination services involve. You'll also be protecting your family from the potential health hazards related to rodents inhabiting your home.
You can contact us for rodent extermination as a stand-alone service or in conjunction with other pest control needs, as there are several pests that can be actively seeking shelter at the same time of year. We also offer property maintenance services, so feel free to contact us to get a few things off your to-do list any season of the year. We look forward to assisting you with preventive care and indoor pest control for your home.
---
At Downs Pest Control & Property Maintenance, we offer rodent extermination services to those in Des Moines, Urbandale, West Des Moines, Ankeny, Colfax, Martensdale, Norwalk, Prole, Minburn, Lacona, Bouton, Peru, Winterset, Bevington, Huxley, Bondurant, Dallas Center, Elkhart, Indianola, Polk City, Cambridge, Prairie City, Van Meter, Berwick, Redfield, Liberty Center, Madrid, Earlham, Sheldahl, Carlisle, Cumming, New Virginia, Altoona, Windsor Heights, Granger, Johnston, Mingo, Ackworth, Alleman, Maxwell, Truro, Milo, Saint Charles, Waukee, Grimes, Ira, Pleasantville, Adel, Booneville, Patterson, Woodward, Swan, Runnells, Saint Marys, Hartford, De Soto, Slater, Kelley, and Mitchellville, Iowa.
Similar Services We Offer: