Let our exterminator take a look at your pest problem.
When creepy, crawling pests make their way into your Des Moines, Iowa home or other property, you want them gone even faster than they arrived! Here at Downs Pest Control & Property Maintenance, we want to make sure your unwanted guests are shown the door. Whether you have rodents, spiders, bed bugs, termites or any other types of pests, we are here to ensure that they are taken care of with our exterminator services.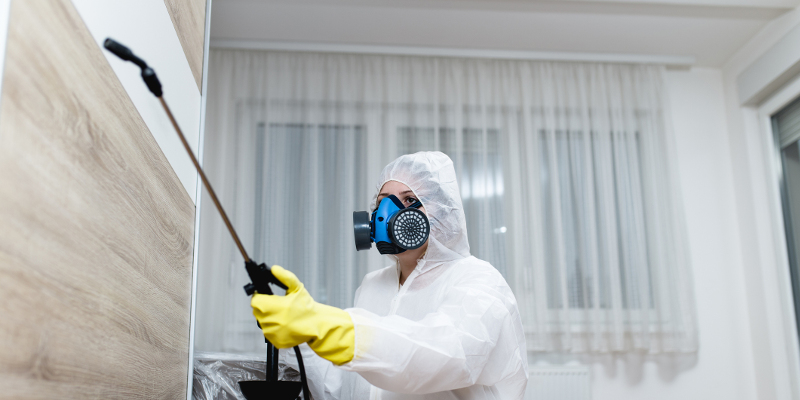 At Downs Pest Control & Property Maintenance, you are getting the advantage of working with a seasoned and experienced company. We have been taking care of pest control problems for some time now and are more than capable of ensuring the swift and certain demise of unwanted and unwelcome guests. When you work with an exterminator from our team, you are getting the experience of someone who has seen problems like yours before and knows what methods will work best for the extermination of your pest problems.
If you are looking for an exterminator in the Des Moines area, look to our experts here at Downs Pest Control & Property Maintenance. Not only will we do a great job, but we will do so at a price that won't cause you any shock. With great prices, treatments that work, and exterminators you can count on, you won't want to go anywhere else than Downs Pest Control & Property Maintenance. Contact us today to find out more about our pricing and methods.
FAQs about Exterminator Services
There is nothing worse than having an infestation of unwanted pests at your Des Moines, Iowa home. Thankfully, the problem can be rectified by an exterminator from our company, Downs Pest Control & Property Maintenance. We know that the most important question you need an answer to is, "can you eliminate them?" However, we also know that you probably have several other questions. We won't leave any of them unanswered when our exterminator is providing you pest control services. To get you started, here are a few of the most common questions that we get asked.
Will the exterminator handle just one pest on a visit or any type I have?
It isn't unusual for a home to have more than one pest. It wouldn't make sense to schedule separate visits to deal with each one. With that said, sometimes due to various life cycles among pests, we may need to send the exterminator out more than once to completely rid your home of a particular pest. We develop a plan that takes care of every pest so you can have a pest-free home.
Do I need to make any preparations before the exterminator arrives?
Most pest control services do not require any advance preparations on your part. If there are things you need to do, we will be sure to advise you ahead of time. If your pets or family are sensitive to the products, you might choose to remove them during pest control services.
Some exterminators are not local. Are you?
Yes, we are locally owned and operated. 
---
At Downs Pest Control & Property Maintenance, our exterminators proudly serve those in Des Moines, Urbandale, West Des Moines, Ankeny, Colfax, Martensdale, Norwalk, Prole, Minburn, Lacona, Bouton, Peru, Winterset, Bevington, Huxley, Bondurant, Dallas Center, Elkhart, Indianola, Polk City, Cambridge, Prairie City, Van Meter, Berwick, Redfield, Liberty Center, Madrid, Earlham, Sheldahl, Carlisle, Cumming, New Virginia, Altoona, Windsor Heights, Granger, Johnston, Mingo, Ackworth, Alleman, Maxwell, Truro, Milo, Saint Charles, Waukee, Grimes, Ira, Pleasantville, Adel, Booneville, Patterson, Woodward, Swan, Runnells, Saint Marys, Hartford, De Soto, Slater, Kelley, and Mitchellville, Iowa.
Similar Services We Offer: