We tailor your termite removal plan to the situation involved to provide the most effective and efficient process possible.
Some pests are mostly just annoying, whereas others, such as termites and carpenter ants, can do incredible damage if they aren't resolved in a timely manner. If you notice a sign that your Des Moines, Iowa home is harboring termites or if you even suspect as much, we recommend giving us a call at Downs Pest Control & Property Maintenance to schedule a termite inspection and our termite removal services if termites are found.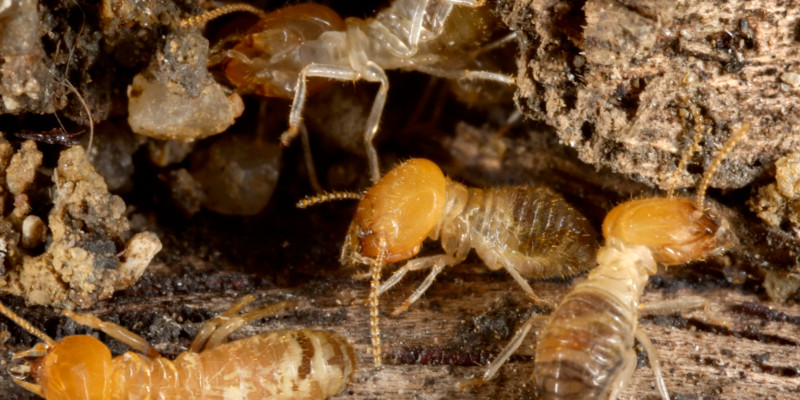 You should know that the sooner that termite removal occurs, the better, so we recommend having termite inspections done on a regular basis, particularly during and after swarming season when they are the most active. We can perform a thorough inspection of your home to locate existing termites and also to point out any potential access points so they can be resolved prior to becoming a gateway into your home.
Our termite removal plan will be determined by the species of termite involved, where they are located, and the size of the colony. We'll go over all your options and answer your questions so that you understand what is needed to free your home of termites and the damage they can cause. We will also discuss prevention protocols that can protect your home from a future invasion.
If you would like to know more about our termite services, including termite inspections, termite removal, and preventative termite treatments for your home, don't hesitate to reach out to us. We can also provide you with other pest control services, as well as property maintenance services that are ideal for property managers and rental properties. Call today to learn more.
FAQs About Termite Removal
Here at Downs Pest Control & Property Maintenance, we know your home is important to you, and we want to help you keep it in great shape. One way that we do that is by offering termite removal services to get rid of these damaging insects. Below, you can find the answers to a few of our most frequently asked questions on the topic, and we encourage you to check them out.
How can I tell if I need termite removal?
There are a few signs to look for in order to tell if you have a termite problem. If termites are present in your home, you will likely see discarded wings on your floors or around your foundation. You will also likely see frass (termite droppings), which look a lot like sawdust, around your home. In addition, if there are termites on your property, you will likely see wooden furniture or architectural components start to blister, and the wood will sound hollow when you knock on it.
How does termite removal work?
Our team uses multiple methods to get rid of termites, and we will choose which treatment to use based on the size and severity of your infestation. In most cases, we should be able to use baits to kill the termites gradually—worker termites eat the poison and carry it back to the colony, where they spread it to the other termites—as well as liquid barrier treatments to prevent more termites from entering your home from outside. In severe cases, however, it may be necessary to tent your home, a process that works by replacing all the air inside with sulfuryl fluoride, which kills insects without harming your belongings.
---
At Downs Pest Control & Property Maintenance, we offer termite removal services to those in Des Moines, Urbandale, West Des Moines, Ankeny, Colfax, Martensdale, Norwalk, Prole, Minburn, Lacona, Bouton, Peru, Winterset, Bevington, Huxley, Bondurant, Dallas Center, Elkhart, Indianola, Polk City, Cambridge, Prairie City, Van Meter, Berwick, Redfield, Liberty Center, Madrid, Earlham, Sheldahl, Carlisle, Cumming, New Virginia, Altoona, Windsor Heights, Granger, Johnston, Mingo, Ackworth, Alleman, Maxwell, Truro, Milo, Saint Charles, Waukee, Grimes, Ira, Pleasantville, Adel, Booneville, Patterson, Woodward, Swan, Runnells, Saint Marys, Hartford, De Soto, Slater, Kelley, and Mitchellville, Iowa.