Rodent extermination is best done as early as possible when a rodent population is suspected.
There are some rodents that are cute and acceptable to have around. A hamster in a cage with a running wheel can be quite entertaining, for example. Uninvited mice and rats are not cute nor desirable. At the first sign of these types of rodents, you should be calling in a rodent extermination professional. It doesn't take long for a couple of rodents to become dozens, and even one can wreak havoc on electrical wiring, attic and wall insulation, clothing stored in your attic or basement, food in your pantry, and many other spots.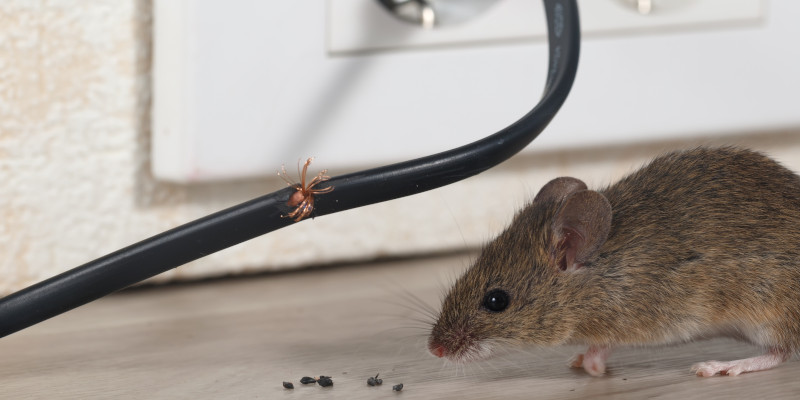 At Downs Pest Control & Property Maintenance, we can resolve a rodent problem at your Ankeny, Iowa home whether it is just a few stragglers that entered during the fall looking for a warm place to spend the winter or a huge family that came about after spring breeding season. Rodent extermination is necessary to avoid the damage to your home and belongings, but it is also important because of the health hazards involved due to the contamination of rodent droppings and saliva. Since rodents breed quickly, the longer you wait, the more chance of such issues as hantavirus, salmonella, and lymphocytic choriomeningitis (LCMV).
If you have heard rodents scurrying around at night, noticed footprints in dusty areas, found a nest, or discovered droppings, call us right away for rodent extermination. You can contact us for this as a stand-alone service or in conjunction with your other pest control needs.
Reach out to us today if you suspect rodents are inside your home or if you would like to schedule a full pest inspection to determine if your house is home to some unwelcome guests.
---
At Downs Pest Control & Property Maintenance, we offer rodent extermination services to those in Des Moines, Urbandale, West Des Moines, Ankeny, Colfax, Martensdale, Norwalk, Prole, Minburn, Lacona, Bouton, Peru, Winterset, Bevington, Huxley, Bondurant, Dallas Center, Elkhart, Indianola, Polk City, Cambridge, Prairie City, Van Meter, Berwick, Redfield, Liberty Center, Madrid, Earlham, Sheldahl, Carlisle, Cumming, New Virginia, Altoona, Windsor Heights, Granger, Johnston, Mingo, Ackworth, Alleman, Maxwell, Truro, Milo, Saint Charles, Waukee, Grimes, Ira, Pleasantville, Adel, Booneville, Patterson, Woodward, Swan, Runnells, Saint Marys, Hartford, De Soto, Slater, Kelley, and Mitchellville, Iowa.
Similar Services We Offer: