If you have a rat problem, just call our team to get the effective rodent extermination services you need.
Here at Downs Pest Control & Property Maintenance, we believe that everyone deserves to be comfortable in their own home, and nothing ruins someone's sense of comfort and safety faster than a rodent infestation. If you have a rodent problem in your home or tenants have reported rodents in a property that you manage, our team can help. We provide the effective rodent extermination services you need to make your space feel comfortable and cozy once again.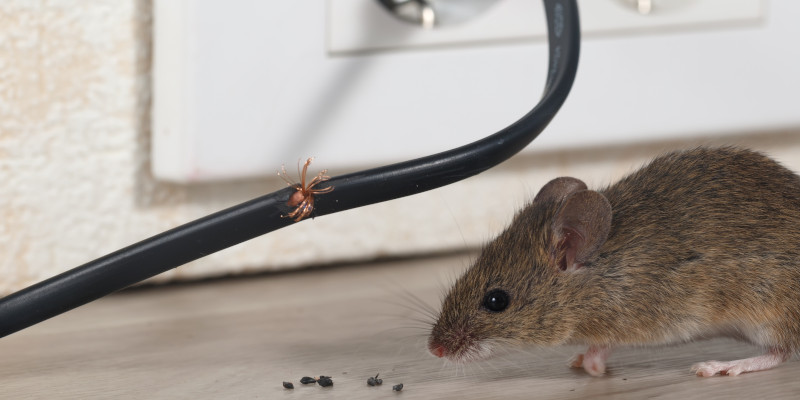 Rodents are more than just unpleasant houseguests–they can actually do real damage to your home. Rats and mice have teeth that grow continuously throughout their lives, which they must keep ground down to a manageable length by constantly gnawing on anything they can get, including your furniture, walls, insulation, or even your wiring. Our team has seen countless examples of the serious damage that rodents can do to a property, and we want to help you avoid that same fate. The best way to prevent this kind of damage is to call an exterminator at the first sign of a rodent problem. The sooner our team can get the rodent extermination process underway, the better it will be for the overall condition of your home.
Our team is proud to serve the West Des Moines, Iowa community, and we want to help you do what's best for your property. If you need rodent extermination services you can count on, just give our team a call today to get our experts on the job.
FAQs About Rodent Extermination
Unfortunately, mice aren't as cute as the classic movie Cinderella may lead you to believe. If you hear scurrying mice or rats in your walls or notice droppings in your kitchen, it's important to get rid of them as quickly as possible. Whether you've never had issues with rodents before or you've tried to solve the infestation yourself to no avail, our team at Downs Pest Control & Property Maintenance has responded to a few common questions we receive from homeowners and landlords alike.
How many mice could be inside my home?
If you've seen one mouse skitter across your floor inside your house, chances are that there might be five or six other mice hiding out in your basement, attic, or within your walls. It's unusual for there to only be one mouse indoors, so even if you've caught one, there are almost always more lurking nearby.
Do I need an exterminator to get rid of a rodent problem?
If you want your home cleared of all rodents as quickly as possible, it's in your best interest to call a professional immediately. If you try to use different DIY solutions that don't work for several weeks, the rodents in your home have already had the chance to reproduce and increase the amount of damage they're doing to your house.
Why do rodents keep coming back?
If your home frequently experiences rat or mouse infestations, the most common cause comes down to food. If you and your other family members eat in areas besides the kitchen, such as your bedrooms or the living room and don't clean up promptly, rodents will be attracted to the crumbs or food waste left behind. An easy way to prevent rodents in the future is to eat all meals in the kitchen, sweep frequently, and promptly wash dishes as soon as you're finished using them.
---
At Downs Pest Control & Property Maintenance, we offer rodent extermination services to those in Des Moines, Urbandale, West Des Moines, Ankeny, Colfax, Martensdale, Norwalk, Prole, Minburn, Lacona, Bouton, Peru, Winterset, Bevington, Huxley, Bondurant, Dallas Center, Elkhart, Indianola, Polk City, Cambridge, Prairie City, Van Meter, Berwick, Redfield, Liberty Center, Madrid, Earlham, Sheldahl, Carlisle, Cumming, New Virginia, Altoona, Windsor Heights, Granger, Johnston, Mingo, Ackworth, Alleman, Maxwell, Truro, Milo, Saint Charles, Waukee, Grimes, Ira, Pleasantville, Adel, Booneville, Patterson, Woodward, Swan, Runnells, Saint Marys, Hartford, De Soto, Slater, Kelley, and Mitchellville, Iowa.
Similar Services We Offer: