Call on us when you need an exterminator at your home or rental property.
Even though humans are outnumbered by insects and other pests by an incredibly large margin on earth, that doesn't mean you need to tolerate them inside your Ankeny, Iowa home or allow them to threaten the comfort and safety of your family or your home. At Downs Pest Control & Property Maintenance, our team is comprised of experienced pest control professionals who can put an end to existing pests and provide protection against future infestations. When you need an exterminator for your personal residence or as a property manager or landlord, you can expect reliable results in the fight against termites, spiders, rodents, fleas, carpenter ants, bed bugs, and other pests.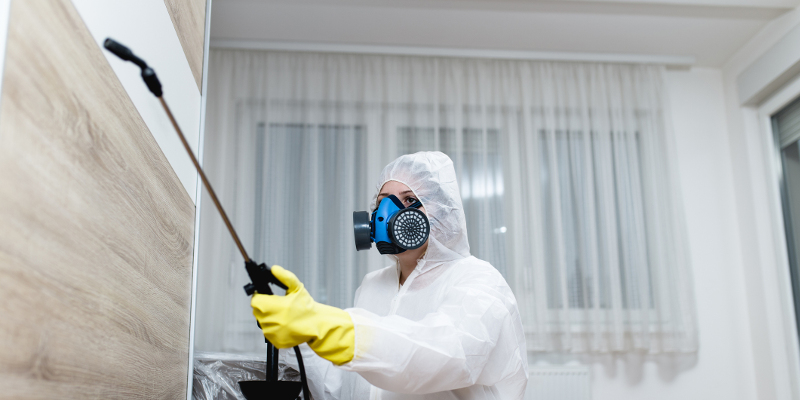 The exterminator who comes to your property will begin with a thorough inspection to determine not only which pests are present, but also what situations resulted in the infestation to begin with. By pointing out entry points, factors that made your property hospitable, and other situations, we can help you avoid future problems. You can rest assured that you will be given an accurate assessment and honest advice about resolving your pest concerns, now and for the future.
If you would like to schedule a termite inspection and learn about a termite treatment to safeguard your property's structural integrity, or discuss other pests that you see or suspect, don't hesitate to reach out to us. We are happy to schedule an appointment for an exterminator to visit your home or rental property. In addition, we offer rental property management services and can provide you with an estimate on any of our services.
FAQs About Hiring Exterminators
When you believe that unwelcome pests are present in your home, the last thing you want to do is wait too long to address the problem. Just like any other home maintenance issue, ignoring the problem until it becomes serious will only lead to more stress and bigger expenses later on. Here are some tips we recommend when it comes to dealing with common household pests and knowing when you may need professional help.
How do I know if there's a pest infestation in my home?
There will be different warning signs depending on what kind of pest you're dealing with. If you have bed bugs or fleas, for instance, you might start noticing bite marks on your skin. If you have rats or mice, you may see droppings around your home, hear odd noises in your walls, or even see wood damage on different structures within your house. Of course, if you regularly see insects or rodents scurrying around inside, it's a sure sign that you need an extermination service now.
Can I get rid of indoor pests on my own?
Although it may be possible to get rid of small infestations using methods like store-bought traps, insecticides, or other solutions, these aren't always guaranteed to work. When you work with a professional exterminator, you can have confidence in their expertise, as they'll know exactly which methods will be the most effective for each kind of bug or rodent. In addition, calling a pest control service sooner rather than later will help you prevent the infestation from spreading and causing more extensive property damage to your home.
---
At Downs Pest Control & Property Maintenance, our exterminators proudly serve those in Des Moines, Urbandale, West Des Moines, Ankeny, Colfax, Martensdale, Norwalk, Prole, Minburn, Lacona, Bouton, Peru, Winterset, Bevington, Huxley, Bondurant, Dallas Center, Elkhart, Indianola, Polk City, Cambridge, Prairie City, Van Meter, Berwick, Redfield, Liberty Center, Madrid, Earlham, Sheldahl, Carlisle, Cumming, New Virginia, Altoona, Windsor Heights, Granger, Johnston, Mingo, Ackworth, Alleman, Maxwell, Truro, Milo, Saint Charles, Waukee, Grimes, Ira, Pleasantville, Adel, Booneville, Patterson, Woodward, Swan, Runnells, Saint Marys, Hartford, De Soto, Slater, Kelley, and Mitchellville, Iowa.
Similar Services We Offer: