We can become your trusted exterminator for your own property and any properties you manage.
Hiring an exterminator is a must when you spot a bothersome pest within your living space. After all, the visibility of one spider, cockroach, rodent, or other critter usually indicates a larger problem behind the walls or between the floors. Pests can creep into a home through tiny cracks and gaps, and they tend to set up residence in places where they have steady access to food, water, and warmth. Here in West Des Moines, Iowa and the surrounding area, you can count on our team at Downs Pest Control & Property Maintenance for pest control. We can become your trusted exterminator for your own property and any properties you manage.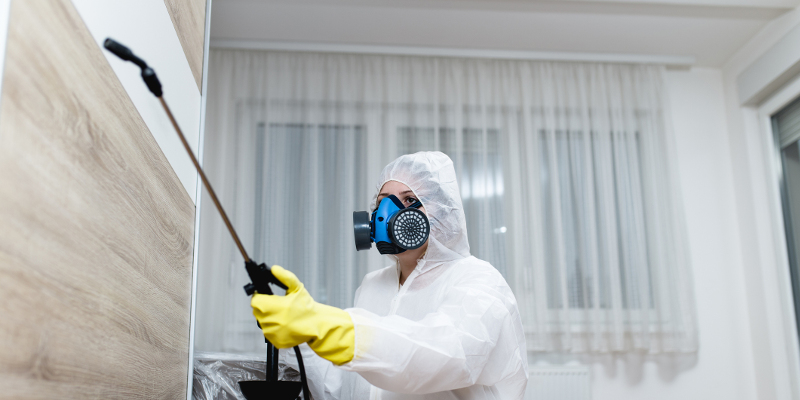 One of the most common pests we deal with in this area throughout the changing seasons is bed bugs. These bothersome critters can hitch a ride on suitcases and clothing, often resulting in an infestation that is hard to manage. Bed bugs feed on the blood of humans, so they'll bite their victims while they sleep, leaving behind painful welts and red spots. If you notice these on your body or the bodies of those in your living space, it's important to act quickly to have the problem resolved as soon as possible. Our technicians can take care of bed bug removal, as well as the removal of other types of pests.
Every exterminator on our team has the skills and experience needed to take care of pest problems of all sizes. We can take care of spiders, termites, ants, rodents, and many other pests that may be creeping into your living space. Our team is also available to provide pest control services as part of our property maintenance options for any properties you manage.
FAQs About Working with an Exterminator
Over the years, our team at Downs Pest Control & Property Maintenance has received many questions about working with an exterminator. To help you save time and know what to expect, we have assembled a few of the most common questions and their answers below for you to check out.
Do I really need an exterminator?
In our experience, many property owners will attempt to use over-the-counter pest control products to get rid of their pest problems. However, these products usually provide only short-term results. If you have an infestation on your hands, the most effective way to deal with the problem is to hire an experienced exterminator to take care of it for you. Our team has extensive experience in the industry, and you can count on us to get rid of rodents, cockroaches, termites, bed bugs, ants, spiders, or just about any other pests that may be affecting your property.
When should I call an exterminator?
You should call an exterminator any time you notice pest activity around your property. Usually, by the time that rodent or insect activity becomes apparent to humans, the problem has become pretty significant, so you should take steps to get it taken care of as soon as possible. In addition, we also recommend that you call an exterminator before any pest problems develop in order to schedule preventative treatments to keep pests out. Our team can apply a chemical barrier around the perimeter of your building that will discourage rodents and insects from entering the place at all.
---
At Downs Pest Control & Property Maintenance, our exterminators proudly serve those in Des Moines, Urbandale, West Des Moines, Ankeny, Colfax, Martensdale, Norwalk, Prole, Minburn, Lacona, Bouton, Peru, Winterset, Bevington, Huxley, Bondurant, Dallas Center, Elkhart, Indianola, Polk City, Cambridge, Prairie City, Van Meter, Berwick, Redfield, Liberty Center, Madrid, Earlham, Sheldahl, Carlisle, Cumming, New Virginia, Altoona, Windsor Heights, Granger, Johnston, Mingo, Ackworth, Alleman, Maxwell, Truro, Milo, Saint Charles, Waukee, Grimes, Ira, Pleasantville, Adel, Booneville, Patterson, Woodward, Swan, Runnells, Saint Marys, Hartford, De Soto, Slater, Kelley, and Mitchellville, Iowa.
Similar Services We Offer: