We are licensed to apply pesticides for termite control.
Finding insects of any kind in one's home is a cause for concern, but some are more concerning than others. Where insects like ants are pretty harmless, wood-destroying insects like termites present a real danger to your property.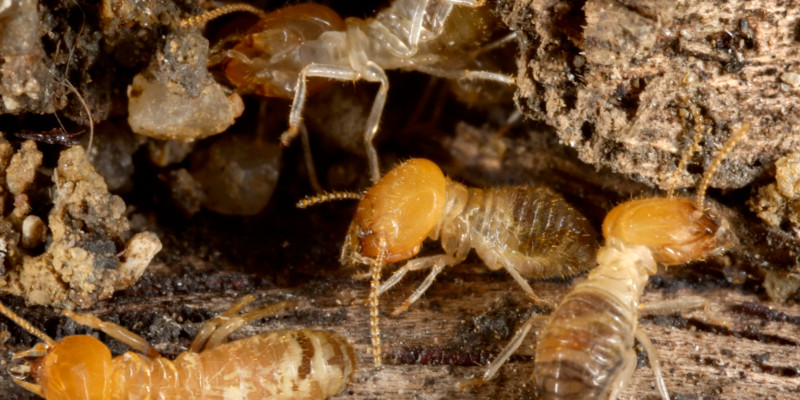 Termites are voracious creatures that feast on wood, including the wooden beams and other structural elements that make up a home. Though they are tiny, they live in large colonies and don't sleep, so they could very well be munching away for 24 hours every day. Clearly, they are very destructive and should be removed immediately, so if you suspect you have termites, give our team at Downs Pest Control & Property Maintenance a call.
We have the right credentials and experience to provide termite removal at your West Des Moines, Iowa property. We're licensed to apply pesticides for termite control and are committed to taking every step we can to resolve your termite infestation. We will be sure to assess the situation, thoroughly apply the appropriate solutions, and help you prevent future infestations.
If you are not sure whether you need termite removal, look for the following signs:
Mud tunnels or tubes
Hollow-sounding wood when you tap on it
Peeling paint
Discarded wings
Termite droppings that look like small piles of sawdust or pepper
Contact us today if you think you may need termite removal. Upon evaluating your situation, we can offer you a free estimate. Let our team know if you have any questions.
---
At Downs Pest Control & Property Maintenance, we offer termite removal services to those in Des Moines, Urbandale, West Des Moines, Ankeny, Colfax, Martensdale, Norwalk, Prole, Minburn, Lacona, Bouton, Peru, Winterset, Bevington, Huxley, Bondurant, Dallas Center, Elkhart, Indianola, Polk City, Cambridge, Prairie City, Van Meter, Berwick, Redfield, Liberty Center, Madrid, Earlham, Sheldahl, Carlisle, Cumming, New Virginia, Altoona, Windsor Heights, Granger, Johnston, Mingo, Ackworth, Alleman, Maxwell, Truro, Milo, Saint Charles, Waukee, Grimes, Ira, Pleasantville, Adel, Booneville, Patterson, Woodward, Swan, Runnells, Saint Marys, Hartford, De Soto, Slater, Kelley, and Mitchellville, Iowa.