We recommend that you call us for a termite inspection annually and before closing on a new property.
When you consider the severe ramifications of allowing a termite colony to get entrenched and devour your Ankeny, Iowa home, it makes sense to have a regular termite inspection performed, as well as have a termite prevention plan in place. At Downs Pest Control & Property Maintenance, our professionals have the experience you need to resolve a current termite problem and keep termites at bay.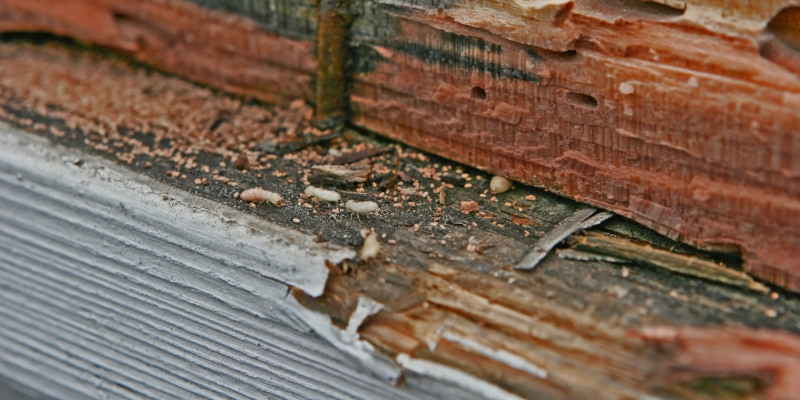 We recommend having a termite inspection done annually, especially after swarming season, even if you have termite protection in place. When you consider that a reasonably sized termite colony can go through an ounce of wood each week and that Formosan subterranean termites, which are even more voracious, can quickly grow to a large colony and go through more than a cubic foot of lumber in a year, it makes sense to stay on top of any termite situation. Maybe your home won't collapse anytime soon even with subterranean termites, but it isn't worth taking the risk that it could eventually.
We also recommend having a termite inspection before closing on a new home or rental property. You need to know ahead of time if there is damage that needs to be repaired and a termite infestation that needs to be exterminated. You can then negotiate with the seller or even walk away if the damage is severe.
If you would like to schedule a termite inspection for your home or rental property, don't hesitate to reach out to us. We will be happy to answer any questions that you might have about termites or any other pests you want to exterminate or prevent. In addition, if there is wood damage, we can resolve that too!
---
At Downs Pest Control & Property Maintenance, we offer termite inspection services to those in Des Moines, Urbandale, West Des Moines, Ankeny, Colfax, Martensdale, Norwalk, Prole, Minburn, Lacona, Bouton, Peru, Winterset, Bevington, Huxley, Bondurant, Dallas Center, Elkhart, Indianola, Polk City, Cambridge, Prairie City, Van Meter, Berwick, Redfield, Liberty Center, Madrid, Earlham, Sheldahl, Carlisle, Cumming, New Virginia, Altoona, Windsor Heights, Granger, Johnston, Mingo, Ackworth, Alleman, Maxwell, Truro, Milo, Saint Charles, Waukee, Grimes, Ira, Pleasantville, Adel, Booneville, Patterson, Woodward, Swan, Runnells, Saint Marys, Hartford, De Soto, Slater, Kelley, and Mitchellville, Iowa.