Our team provides effective, thorough flea removal services so that you and your pets can always be comfortable in your home.
In our experience here at Downs Pest Control & Property Maintenance, pests can get into your home in a number of different ways. When it comes to fleas, the most common way that these insects make their way into any home is by being carried indoors by a pet. If your furry friend has brought fleas into your home, our team can help–we offer effective flea removal services that you can count on to get rid of these pests.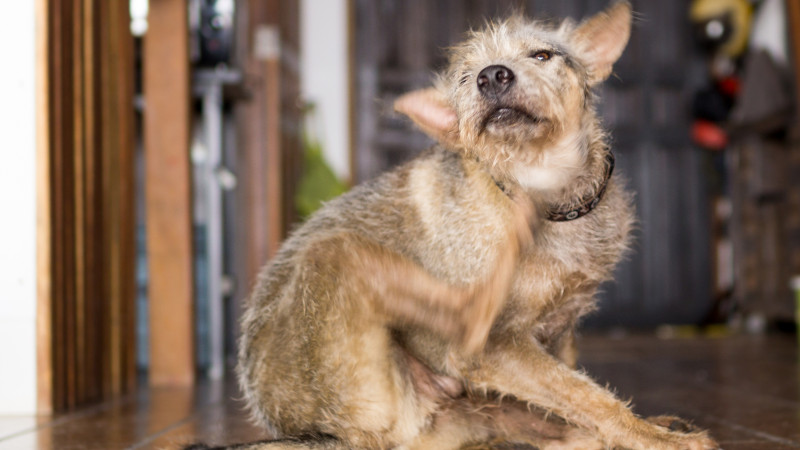 While some insect problems can be dealt with in just one treatment, unfortunately it usually takes multiple treatments to truly wipe out a flea infestation. One of the reasons for this is because fleas have multiple life stages, which means a second wave of flea nymphs can mature after the first wave of adults was exterminated, and another is that your pet may continue to bring new insects indoors. Because of this, our flea removal services typically involve multiple rounds of treatment, and we will treat both your home (to get rid of any adult fleas currently present inside) and your yard (to get rid of the fleas that may be waiting outdoors). In addition, in order for our flea removal service to be truly effective, you will need to work with your veterinarian to treat your pet for fleas and protect them against these insects.
Our team is proud to serve the West Des Moines, Iowa community, and we want to help you keep your home and your pet as comfortable as possible. If you are in need of flea removal services, just give us a call.
---
At Downs Pest Control & Property Maintenance, we offer flea removal services to those in Des Moines, Urbandale, West Des Moines, Ankeny, Colfax, Martensdale, Norwalk, Prole, Minburn, Lacona, Bouton, Peru, Winterset, Bevington, Huxley, Bondurant, Dallas Center, Elkhart, Indianola, Polk City, Cambridge, Prairie City, Van Meter, Berwick, Redfield, Liberty Center, Madrid, Earlham, Sheldahl, Carlisle, Cumming, New Virginia, Altoona, Windsor Heights, Granger, Johnston, Mingo, Ackworth, Alleman, Maxwell, Truro, Milo, Saint Charles, Waukee, Grimes, Ira, Pleasantville, Adel, Booneville, Patterson, Woodward, Swan, Runnells, Saint Marys, Hartford, De Soto, Slater, Kelley, and Mitchellville, Iowa.