Our carpenter ant removal services will rid your home of this wood-destroying menace.
There is little that makes us more apprehensive in the insect world than wood-destroying creatures. While termites might be the first, and perhaps only, one to come to mind, there is another one that you should be concerned about: carpenter ants. These creatures were given this name because they burrow into wood. This is different than termites, which consume the wood, as carpenter ants are just seeking out a place to create their nests. The outcome is the same, however: potential structural damage to your Ankeny, Iowa home. That is why if you suspect you have a carpenter ant issue, you should call us at Downs Pest Control & Property Maintenance as soon as possible to schedule carpenter ant removal.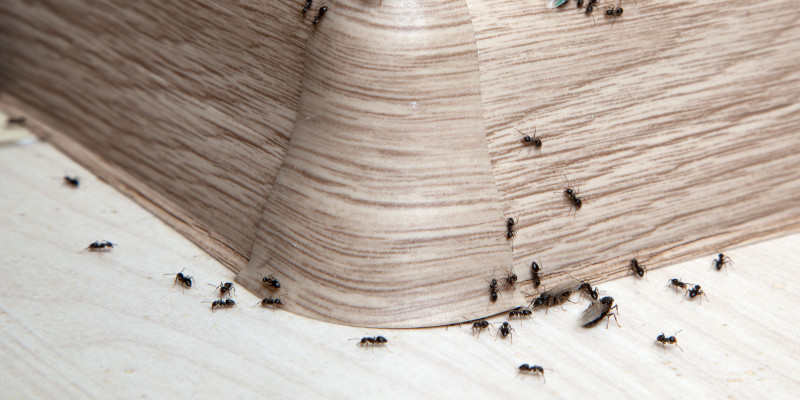 Carpenter ants are drawn to wood with a higher moisture content, so they are most commonly found around windows, on decks and porches, and in the eaves of a house. The tough part about carpenter ants is that they are most active at night, so you may not even find them when they are foraging. In fact, you might not realize you have a problem until there is extensive damage or you are attentive enough to notice the wood shavings they leave behind. We recommend regular inspections and preventative measures be taken to keep your home pest-free. While we do offer carpenter ant removal, we are happiest when we can keep you from having a problem to begin with.
If you would like to know more about carpenter ant removal or any of our pest control or property maintenance services, don't hesitate to reach out to us.
---
At Downs Pest Control & Property Maintenance, we offer carpenter ant removal services to those in Des Moines, Urbandale, West Des Moines, Ankeny, Colfax, Martensdale, Norwalk, Prole, Minburn, Lacona, Bouton, Peru, Winterset, Bevington, Huxley, Bondurant, Dallas Center, Elkhart, Indianola, Polk City, Cambridge, Prairie City, Van Meter, Berwick, Redfield, Liberty Center, Madrid, Earlham, Sheldahl, Carlisle, Cumming, New Virginia, Altoona, Windsor Heights, Granger, Johnston, Mingo, Ackworth, Alleman, Maxwell, Truro, Milo, Saint Charles, Waukee, Grimes, Ira, Pleasantville, Adel, Booneville, Patterson, Woodward, Swan, Runnells, Saint Marys, Hartford, De Soto, Slater, Kelley, and Mitchellville, Iowa.